Businesses
From large projects to small projects, our quality service is the very best in the business. Hercules Stump Grinding works with contractors, office complexes, golf courses, developers, and in every type of commercial area. We have expert experience in knowing the right application for each job – from a park to an office complex and everything in between. We will give your project area a fresh, cleaner appearance.
Your customers shouldn't have to worry about tripping over a stump and getting hurt while in your care. Keep your property safe with our commercial stump grinding services. Because we use strong, heavy plywood barricades, you don't have to worry about stray chips breaking your windows or damaging your property.
There's no beating the efficiency, ease and cost savings that come with stump grinding. Plus, when we're done, you'll never know there was ever a stump there!
We treat your property with respect, work quickly and don't leave behind a mess.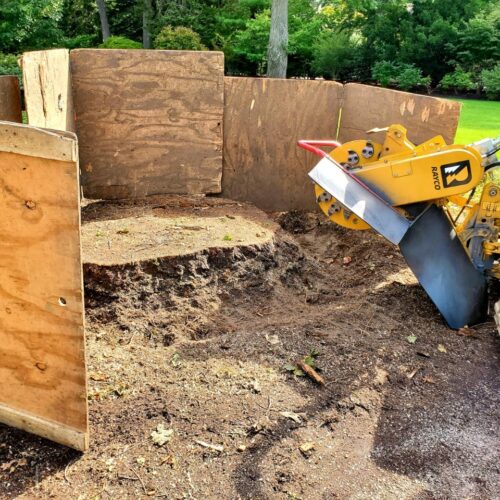 Municipal and HOA
Allow us to help you identify your needs, as well as handle them within the limits of budget constraints. We are the experts and will use our experience to help get your larger jobs done properly, on time and on budget. We can present a detailed, clear plan that will work to satisfy all the needs of your community.
Our Recent Commercial Projects
The Country Club in Brookline
Weston Golf Club in Weston
Wellesley Country Club in Wellesley
Dedham Country and Polo Club in Dedham
Blue Rock Golf Course in South Yarmouth, Cape Cod
Woodmere Condos in Milton
Lasalle College in Newton
Town of Natick Public Works
Fuller Village in Milton
Arone Brothers Development
Tocci Development
Zoo New England: Franklin Park Zoo & Stone Zoo
The Hills at Mainstone in Wayland
Allandale Farm in Brookline